Tariffs: Monitoring, Dispatcher+, Fuel+
Simple solution for:
automobile operating company;
freight trafficking;
community services;
individual-entrepreneurs;
construction machinery and heavy vehicles;
special purpose equipment;
automatic loader.
The problem of metering of fuel flow is urgent in case of technical equipment operation the consumption rate of which depends on work performed, engine load or time spent at idle. Using the instruments provided by automated directory and documentation system, it is possible not only to receive the data on how much fuel was consumed by technical equipment, but also calculate the amount of moto hours, in order to learn how many hours the engine was at idle and even how long and when the supplemental and attachable implements were working.
Possessing all the necessary data it is possible to draw up a transportation control and movement document based on real data, not those presented on the piece of paper, as well as carry out control over the facts of fuel stealing, conversion of checks and other frauds that lead to the company losses, earnings dilution and loss of the competitive edge of the company.
Apart from providing control over the displacement of the object, the user also receives wide range of analytical reports on the use of technical equipment, as well as all the information to create electronic transportation control and movement document.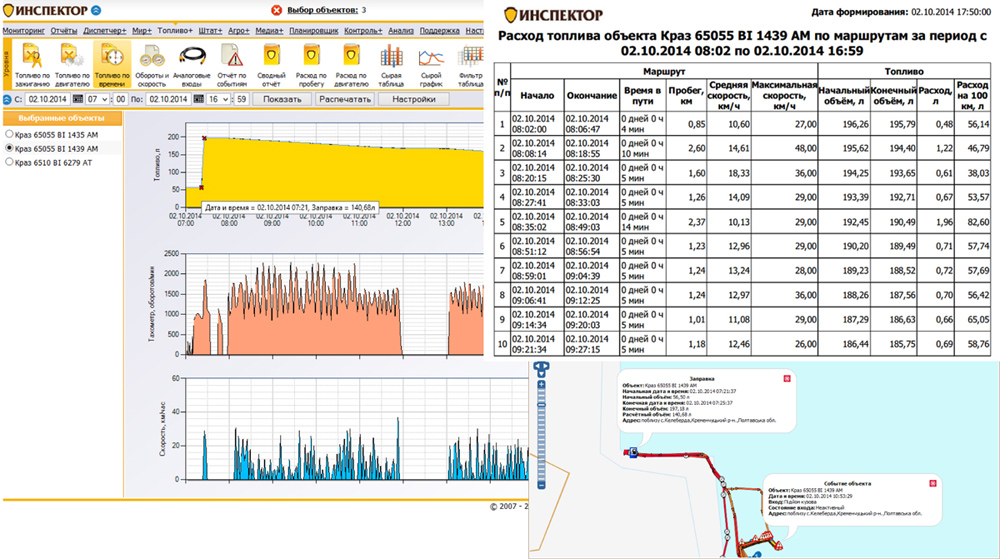 "Additionally we should point at the role of possibilities that are provided by Dispatcher + tariff, that will allow mapping user areas on the map. It gives additional possibilities when determining the kind of activities or amount of trips carried out by transport equipment.