Concise description of the Company's activity
IT-LYNX, LLC has been dynamically and successfully developing on Ukrainian market for 10 years. We are specialized in the development and production of the radio-electronic equipment as well as the development of online systems in order to automate the activity of enterprises. The basic area of our activity is the development and implementation of complex systems of monitoring, transport management, remote control over the objects based on satellite and wireless technologies. All our projects increase the use of the resources efficiency and simplify the activity of enterprises, developing such trades as:
agriculture;
transport and logistics
energy and industrial complex.
History of the Company development and achievements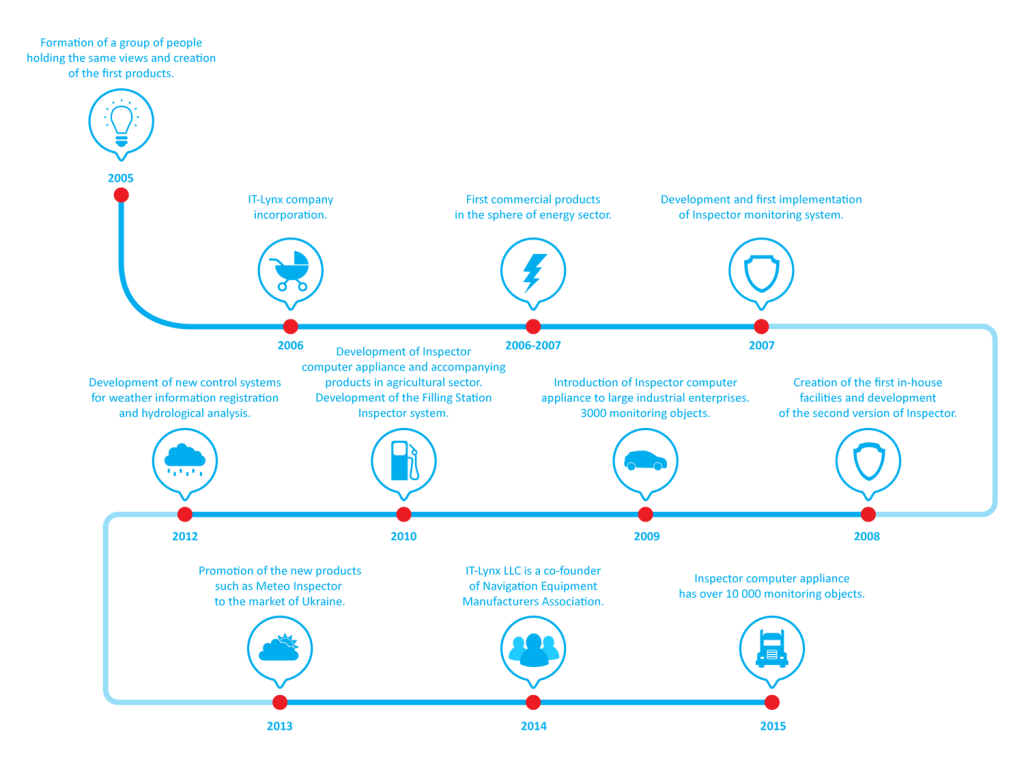 Our mission
We provide our customers with practical innovative solutions in the sphere of communication, implementing such modern concepts as Internet of Things for monitoring and carrying control over the remote objects at any distance.
Our values
Reliability and efficiency
We always take into consideration the peculiar requirements of our customers and apply our own experience in order to provide not only the efficient solutions for their business development but also to assure uncompromising work as well as high quality after-sales service of all the components of our hardware and software appliances.
Partnership
Building working relationships with our customers and colleagues, we keep to the principles of partnership, respect and responsibility in order to achieve the specific mutually beneficial results.
Development
We constantly improve the results of our work, developing and expanding our solutions for the customers, creating comfortable conditions for work and development of our company staff.
Strategic vision
We are the leading company on Ukrainian and European markets in the sphere of IoT innovative practical solutions development, which makes a major contribution to the development of transport sector, logistics, agriculture, industry and other economic sectors.