Tariffs: Monitoring, Dispatcher+, Fuel+, Agro+
Simple solutions for:
small economic enterprises;
agricultural holdings.
One of the main factors of successful activity of the company in the agricultural sphere is the cost minimization for performance of the necessary agricultural works, their execution right on time with high quality and the necessary amount of means. That's why the activity based costing, operational control and amount of consumed fuel, oil and lubricants – the problem that is the most urgent for the agrarian companies.
The instruments provided by computer appliances, allows effectively estimating the volume of executed works, their quality, execution speed and period for performance and well as the amount of fuel, oil and lubricants consumed for such works.
Thanks to specialized equipment, the complex allows taking into consideration the work performed not only by technical equipment but also by attached implements. In such a way there may be stated that the implement was really in operation and at the specific area under crops.
Using all the possibilities, one may be sure that the technical equipment is used for its intended purpose, and the company really uses its mechanical means in order to ensure best results.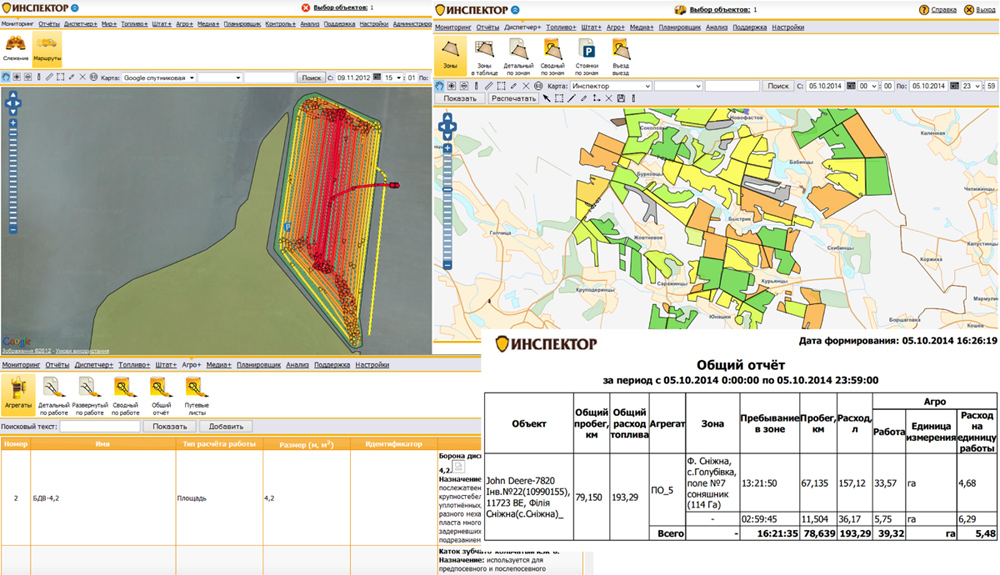 Separately there should be discussed the problem of fuel stealing at enterprises. It is "a honey pie" if combined with the tendency of price increase that, no doubt, leads to substantial earnings dilution. Because every day heavy vehicles consume over one ton of diesel and the consumption rate very much depends on weather conditions, soil conditions and the range of technology factors.
For higher efficiency of fuel, oil and lubricants consumption control there may be also used the system of individualized issue of fuel for industry-sponsored fuel stations and mobile fuel-servicing trucks by means of which there may be completely closed the circle of fuel consumption starting with its acceptance to the warehouse and ending with its consumption for work performance.