This device is a GSM-terminal with GPS/GLONASS receiver, which is installed on tracking unit. Its primary objective is to receive the signals from the Earth's orbit satellites (global positioning system GPS), to process them and determine the main object's trajectory parameters: positions (latitude, longitude, altitude above the sea level), speed and direction of movement. These data are recorded into the internal memory of the device and then are transmitted through the GPRS-channel to the server of your company.
Additionally, the terminal provides connection to 255 inputs (both digital and analog), by means of which it is possible to connect wide range of supplementary peripheral equipment:
Fuel level monitoring sensor;
Pass-through counters of liquid accounting;
Door opening monitoring sensor;
Temperature sensors;
Different identifiers;
Video cameras;
Etc.
Or read various parameters of the monitoring items such as:
Engine rotational rate;
Electric circuit power-supply voltage;
Start up/down the ignition;
Etc.
In the Susanin Live terminal, as distinct from terminals Susanin Live Lite and SmartTrack there was also realized a possibility of video camera connection (for photo – and video fixation of different events, tariff Media+ of GPS monitoring system Inspector).
Appearance: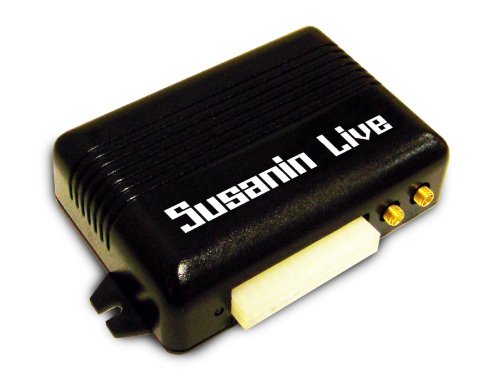 The Susanin Live terminal has a built-in function of the internal software upgrade. This function allows upgrading it to newer versions without dismantling it (while in operation, without any loss of information on the monitoring item).
The Susanin Live terminal works in wide temperature range, has high level of security in electric circuit, is shock proof and tested against vibrations, may be employed in any network of GSM standard, a memory capacity is able to store the object's history up to 1 year (depending on operation condition), which allows using the device in the absence of cellular communication (for example when making a trip abroad).
Susanin Live is able to record the time of power on/off, which can detect its deliberate shutdown. There has been also stipulated the device self-testing, which allows detecting «fakement» with electric circuits.
Device warranty — 12 months.
Technical specifications:
 Operating mode:
 Power voltage, V
 from 8 to 36
 Current consumption in operation mode, A
 Up to 1
 Current consumption in standby mode, mА
 Up to 30
 Positional accuracy, m
 from 5 to 20
 Temperature conditions:
 Operating temperature range, °С
 from -30 to +85
 Humidity, %
 from 5 to 95, non-condensing
 Size and weight of device:
 Length, mm
 110
 Width, mm
 78
 Height, mm
 30
 Weight, g
 about 150