The chief object of the system implementation is to optimize the processes of administration and monitoring and to use the vehicle fleet more efficiently, as well as to provide passenger transportation security and to keep to the schedule of movement and driving regulations.
Creation of automated monitoring and control system of passenger traffic flow and municipal vehicle fleet based on municipal dispatching department. This transport monitoring and dispatching system is intended to solve the problems of city vehicle operation, administration and control.
The hardware part (Figure 1):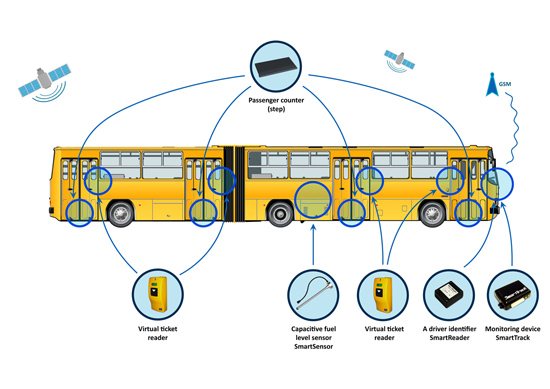 The hardware part.
Figure 1.
Additionally completed tasks for this particular area:
Municipal transport movement on-line control;
Tracking the time of fixed route vehicle arrival to the bus stops and inside the vehicle by means of display board;
En route control of the vehicle, adherence to the route;
Time control of the vehicle arrival at the bus stops, fixation of deviations from the assigned parameters and en- route traffic redistribution;
Voice announcement of the current bus stop when approaching and announcement of the next stop with GPS connection. Reflection of bus stops on the display board inside the vehicle;
Possibility of e-Ticket system implementation;
Passenger traffic flow control in municipal transport;
Observation of commissionary passengers' transportation.
The software part (Figure 2):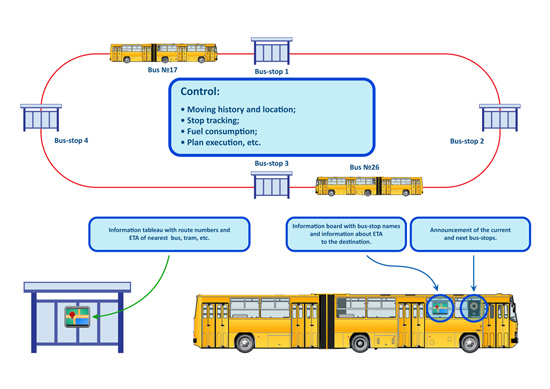 The software part.
Figure 2.